My 52 beers in 52 weeks takes an interesting turn for weeks 20 and 21 as I had the unique opportunity to hit 4 breweries, 2 great bars, and a Pittsburgh Pirates game this weekend.
The first round of this epic 4 day weekend included stops at Pennsylvania Brewing Company, Church Brew Works, and East End Brewing Company early Friday morning to Friday afternoon.  At Penn Brewing, our first stop, I started with their PENNdemonium. We actually got interviewed by KDKA 2 about the craft beer movement. Here is the video and here is the story.  Penn Brewing was nice enough to provide a free growler for our interviews (which was awesome because I was going to buy one anyway!) and I took advantage of their Kaiser Pils that was on tap.  My review is below:
A golden yellow pour with a small, wispy, white head and nice lacing. The smell was very light and slightly hoppy, more grassy hops than piney ones. I must say that my ability to accurately describe the smell was hindered a bit by the fact that I was sitting around a nice campfire when it was consumed, I'd say it was a win/win regardless. My taste buds, however, were in perfect working order.  Following the smell, the taste was light, refreshing, and hoppy, very much like a pilsner should taste.  It was very nicely carbonated and crisp, you could hardly taste any alcohol.  Wonderful drinking beer, whether you're at a campfire, a ballgame, on the lake, wherever, you can't go wrong here!
Next up was a quick stop at Primanti Brothers, where I downed an IC Light and a Pitts-burgher, a cheese-steak with coleslaw and fries piled inside the bun. Obviously needing to burn off a few calories, we walked up to Church Brew Works, passing the original Pittsburgh Brewing Company. If you haven't seen the inside of Church Brew Works, do yourself the favor and either go, or check out the slideshow at their website. They built the brewery in an old church and the setting is both unique and phenomenally interesting. Our waitress had to be one of the nicest waitresses I've ever had. She was constantly throwing us free samples and mis-poured beer. I bought their Quadzilla and Coconut Stout myself, but also tried the Mad Brewer's Maibock and Saazquatch, I also picked up a 6er of their Thunderhop IPA to go. It was the most impressive brewery we visited, not my favorite, but certainly the most impressive. Beer reviews are below!
Quadzilla
Amber in color with hints of yellow, but without much head. What sticks around is almost pink in color. The smell is very sweet, cherries and Belgian yeast mostly, perhaps some alcohol in the background. The taste is not dissimilar. Cherries, candied sugar, Belgian yeast, alcohol, and a caramel malty finish. Pretty low carbonation and medium bodied. The flavor profile evolves as the beer warms, which I enjoyed, but overall it was just a little too sweet for more. Solid beer overall!
Coconut Stout (Cask)
I went for the cask version of the Coconut Stout, which in my opinion was a mistake. A few of my friends got it from the tap and I believe it was a better beer. However, it was still good! Black pour with a good amount of light brown to white head. Once poured, the head forms much like a Guinness is poured. The smell is almost toasted, very sweet, which I would expect from combining coconut and a stout. The problem with Cask vs. Tap for me came with the taste, which for me was all over the place. I considered the taste of the Tap version to be more controlled and balanced, blending the coconut and stout flavors wonderfully, whereas my version you didn't know what was going to happen with each drink, not in a good way however. The beer is full bodied and dry throughout. I just think it was served too warm for my preference. Like with Quadzilla, I like to witness the beer evolve as it warms, I sort of missed out with this one. My advice: If you like cask beers, try it! If you're not really sure, go for the version that's on tap, which I thought was nothing short of phenomenal.
Thunderhop IPA
Ruby red pour with hints of orange and hardly any head. The smell consists of citrus and hops predominantly, a bit grassy and sweet. Some booziness is also noted. Very light up front on the taste, followed by the citrus hops. Not a lot else going on. The hops linger on the palate for a long time after the sip has been taken. Light to medium bodied. Good amount of carbonation and very crisp. Good beer to drink on the porch in the heat of the summer. Not a bad IPA by any mark, but also not mind boggling.
The final brewery of Day 1 was East End Brewing Company. This was the only brewery on this first round that was not a brewpub and did not have a liquor license. The brewery exemplifies Micro-Breweries. Basically in a garage, my group was having second thoughts as to whether or not we had the correct address. The only marker is a keg that sits outside the front door marked East End Brewing Company when they are open. To use the restroom, you literally walk through the brewing tanks and can witness whichever part of the brewing process they're working on at that specific time. I picked up their Big Hop IPA and Black Strap Stout, but alas enjoyed them in a hot tub and didn't get a chance to write down any reviews. I can say that both were well above average in their respective categories!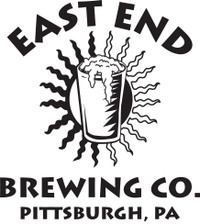 Finally we headed to our tailgate for the Pirates game by the Andy Warhol Museum. The tailgate had such beers as Sam Adam's Summer Ale, Coors Light, Lions Head, George Killian's Irish Red, Smithwick's, and Harp Lager. Luckily, our Buccos creamed the Detroit Tigers 10-1 with a barrage of home runs and good pitching. I grabbed another IC Light inside of beautiful PNC Park.
At this point we headed to Conneaut Lake and enjoyed a simply wonderful and sunny weekend on the lake. Luckily, NW Pennsylvania is not without a craft beer scene, and amongst drinking the previously mentioned growlers, we hit two very nice bars as well.
First up was Roff School Tavern, that was recommended to us by Matt of Voodoo Brewing Company, but more on him later. The Tavern has far more craft beer than I ever imagined for Meadville, PA. They had everything from very local beers to California breweries! The bar has an awesome set up, a bar area and game room/stage inside and tables with a fire pit, cornhole, and horseshoes outside all for the customer's enjoyment. I had never seen anything like that, and certainly not in State College. I went for the Sprague Farm Rustbelt at the bar, another local brewery we didn't have the time to visit and grabbed another growler filled with Lagunitas Brewing Company Undercover Investigation Shut-Down Ale, which I reviewed below.
Reddish brown pour with a nicely sized white head. The head both laces and is retained very well. The smell is hoppy, more of piney hops than grassy, with a caramel malt backbone. Those same piney hops start off the taste and is followed by the maltiness. Dry hops finish the taste off nicely. The beer is light with a good amount of carbonation and a very dry finish, devoid of any alcohol taste. Again a very drinkable choice!
The second bar was Conneaut Lake's Volunteer Fire Department Station 3. A 'members only' bar that directly benefits the fire station. I normally wouldn't write about a bar like this, but the fried fish was wonderful, the Yuengling Lager was cold, and I had the unique opportunity of meeting Bill Hillgrove, the radio announcer of the Pittsburgh Steelers. Having listened to his voice on the radio for countless hours on the edge of my seat rooting on the Stillers, meeting and talking to the man behind the voice really was a highlight of the trip. Knowing a member of our group pretty well, he ended up buying us a round of beers as a congratulations for our recent graduation from Penn State, not bad for a Pitt guy!
Finally, we reached Monday morning and my most anticipated leg of the trip, a visit to Voodoo Brewery. Located in a gutted furniture store in downtown Meadville, PA, it exists as simply a room for brewing, and a room that will one day be a small brewpub. Matt, who is basically the entire brewery, walked us through his small and growing operation. Him and his assistant (the only 2 employees of Voodoo, and the assistant hasn't been there more than a year) were brewing a new batch of Wynona's Big Brown Ale. We got to check out some barrels being used to spontaneously ferment some sour beers, and the Bourbon ones being used to age a new batch of Black Magick. To see how small that brewery is, get the tour by the guy who created it, runs it, and is the brainchild behind basically an entire craft movement in the small towns of NW PA was unrivaled by any other brewery we went to. Also, seeing my final growler being filled with their latest edition of 4 Seasons IPA directly from the tank was awesome, a review of which is below.
From Matt, this beer changes with every single batch. they hardly ever use the same hop or recipe. This is the batch that was in the tanks Monday, May 23rd, 2011. He said the next batch will be completely different. It starts with an amber pour and a nicely sized white head. The head laces and retains very nicely. The smell is full of piney hops with only a slight malt backbone. Like most, the taste really follows the smell. Piney hops and a dryness up front meet a stiff caramel maltiness on the back end. Lingering dryness at the end. Crisp, light, and refreshing. Not much of a hint of alcohol. Great beer. I'd love to try every single variation of this. Matt said they brew darker IPAs in the winter, and lighter ones as the weather warms up. This was a nice melding of a heavy IPA with a lot of refreshing lightness. Keep it up Voodoo!

I really am still digesting from everything I learned this weekend. Whether it be about beer, breweries, lake fishing, shooting, general history of another small town, or any of the other experiences we had, I wouldn't have changed any of it. Every single establishment we visited was extremely hospitable, every server we had was kind and willing to indulge us, and every brewery we visited was unique and interesting in their own way. I would highly recommend a similar tour to anybody!